It has – unsurprisingly – been some time since I was last able to document the state of Barnsley's Glassworks project.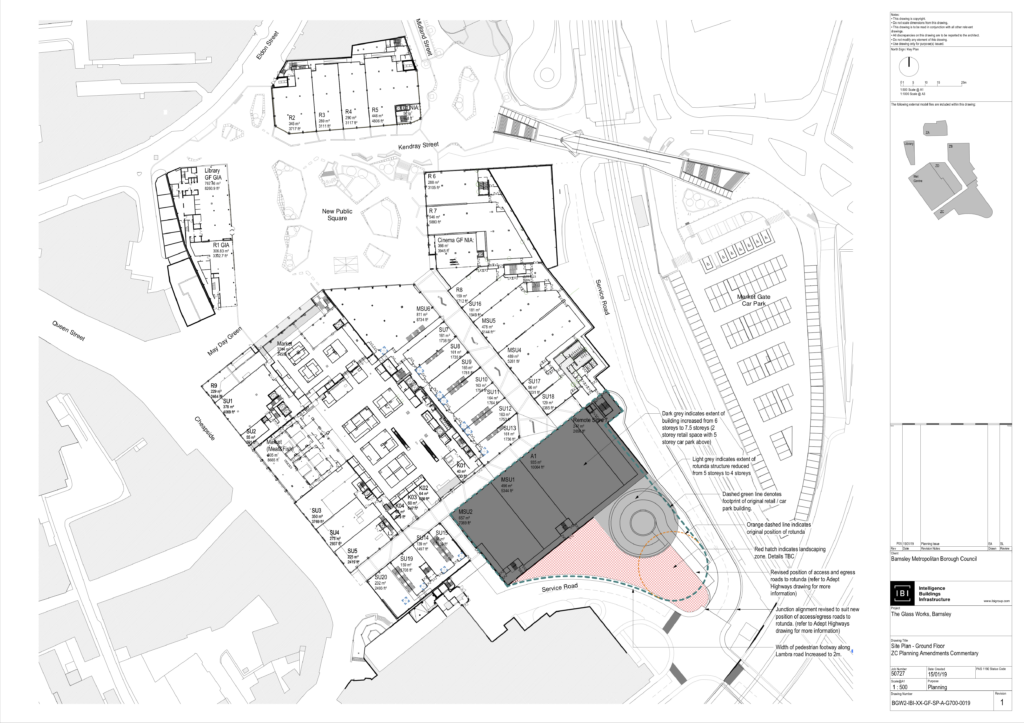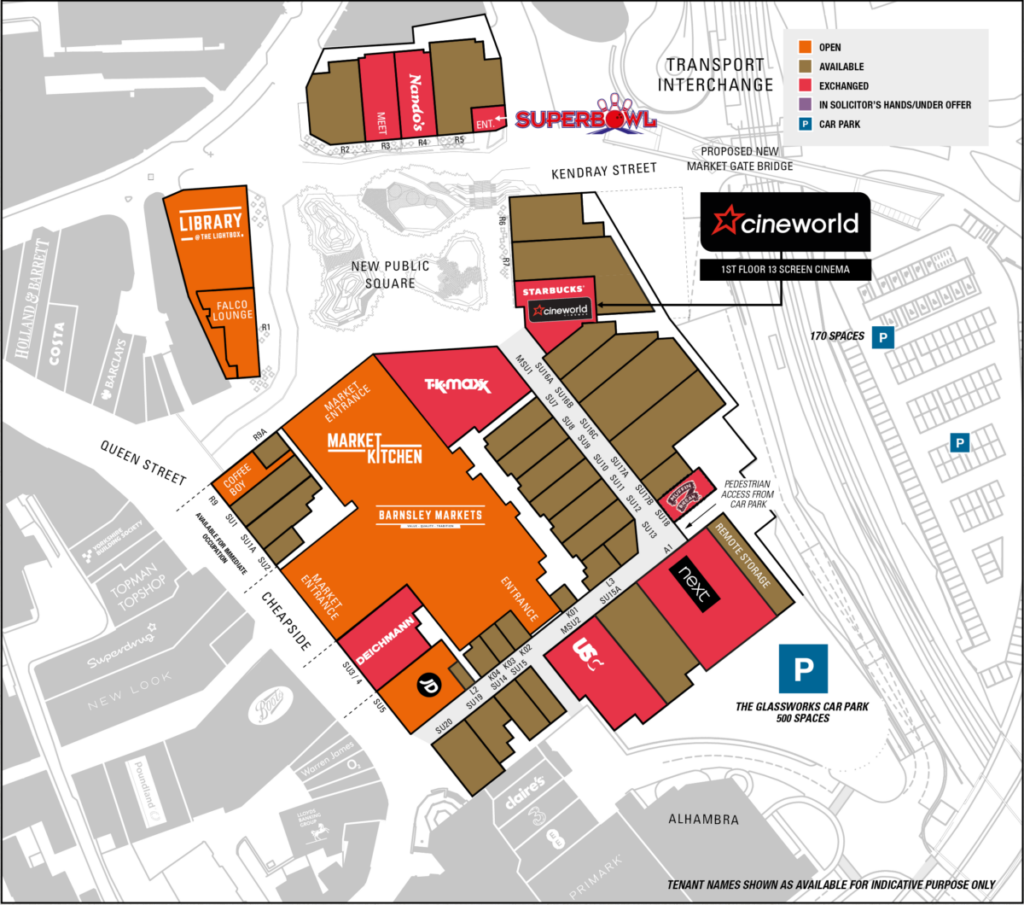 Current indicative occupancy plans.

The Lambra Road car park. Since my last visit a large amount of cladding has been added. This will have space for around 500 cars.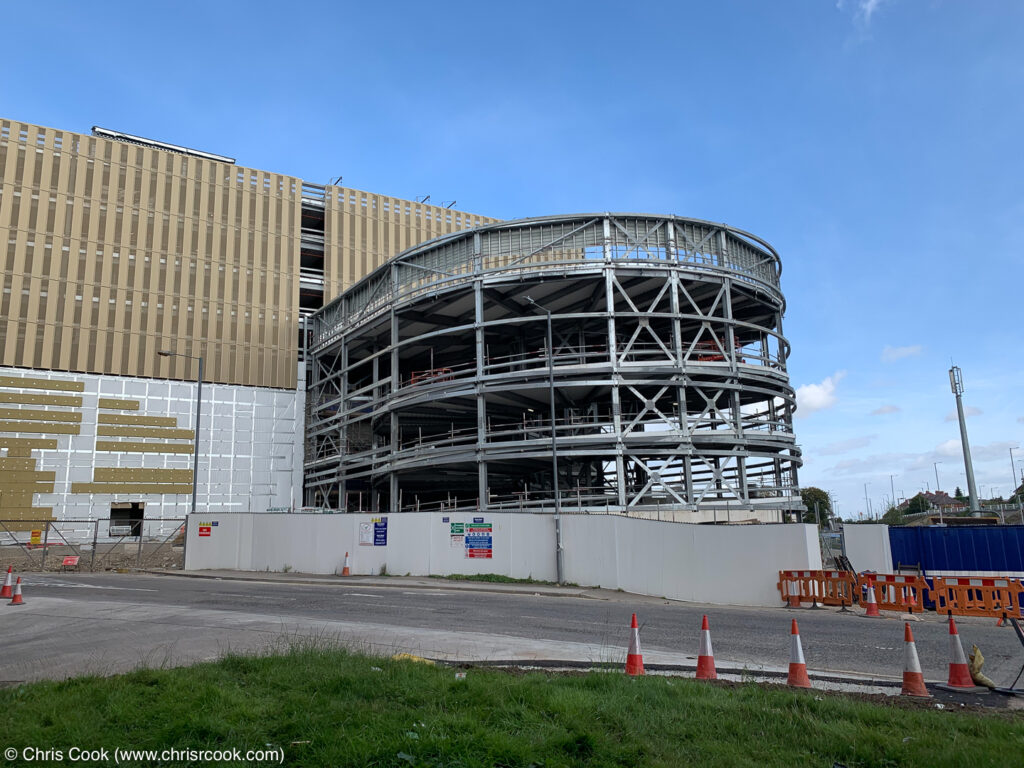 The rotunda for vehicle access to the carpark.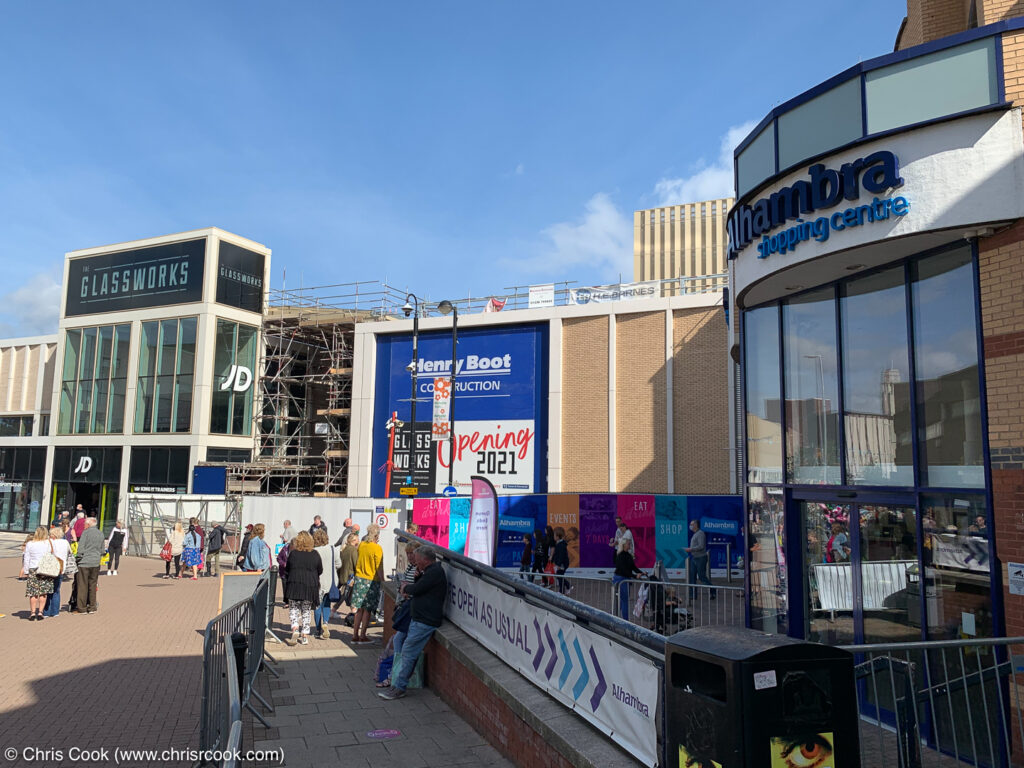 The south-west entrance taken from the Cheapside entrance to the Alhambra Centre. Since my last update the majority of the cladding has been completed however the windows have still not been fitted. There also seems to have been no movement on the covering for the covered walkway. To the upper centre right (just behind the Alhambra Centre sign), you can see the top of the newly cladded carpark.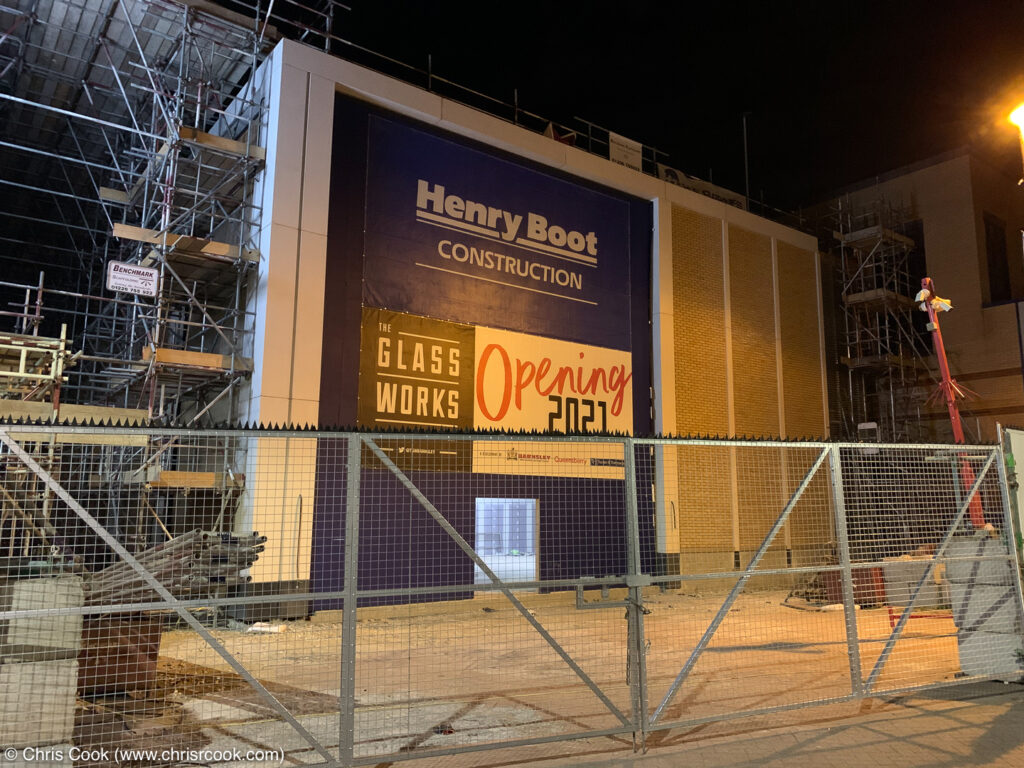 A night shot of the south west entrance and potential future coffee shop. A large banner advertises a – possibly optimistic – 2021 opening.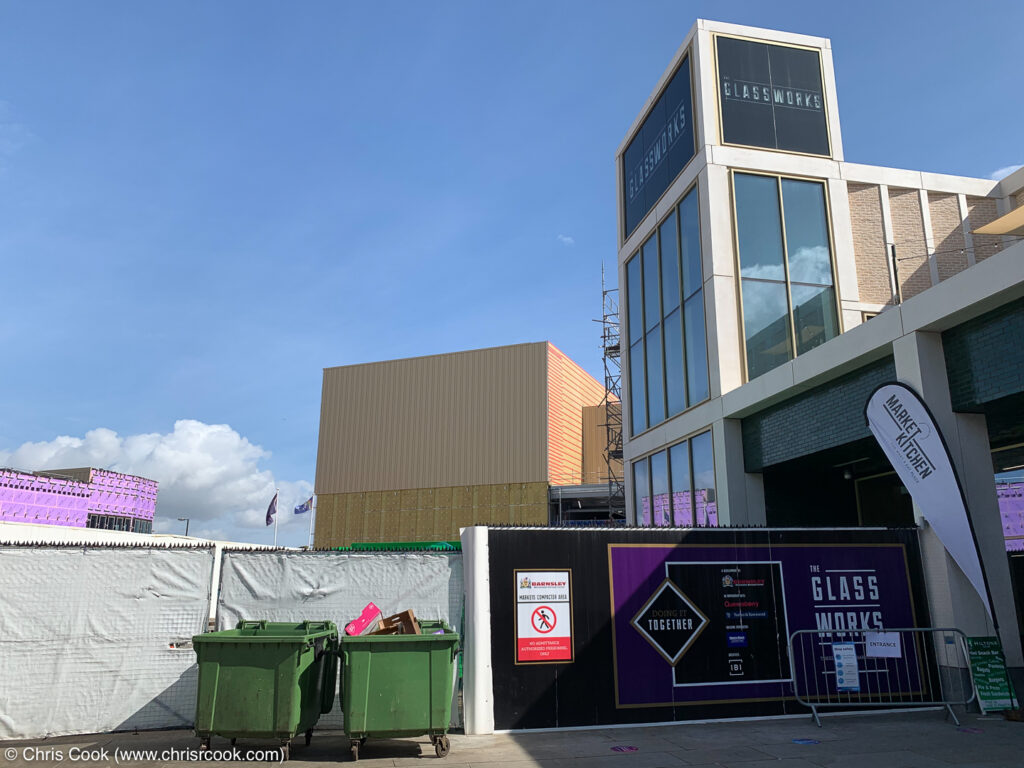 The box that will become the Cineworld Cinema, taken from the northern entrance to the market. On completion the hoardings will be removed to reveal a new public area.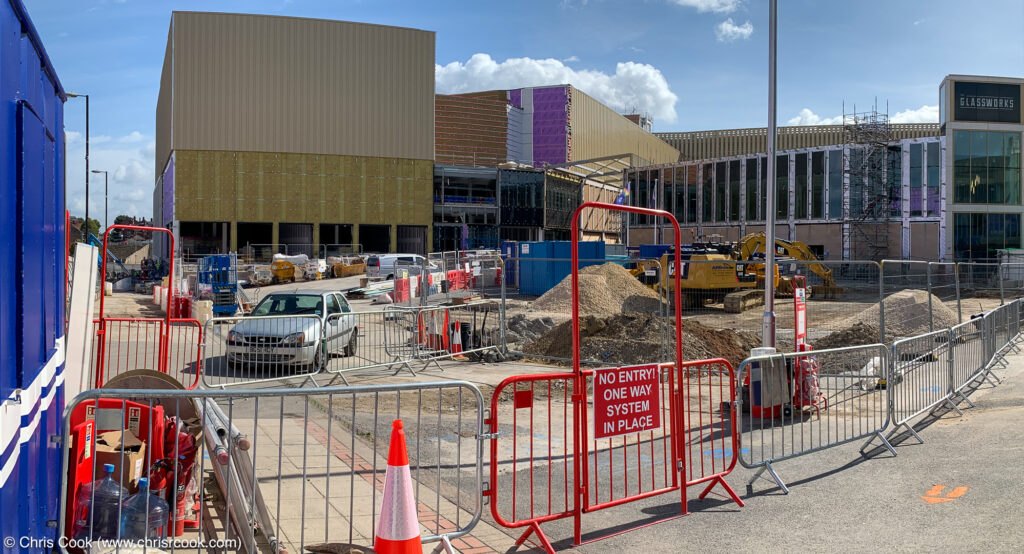 The site of the future public square. Behind are shops with the Cinema above and to the right of is the future covered walkway leading to more shops and the Lambra Road car park. The shop space on the right is currently earmarked for a TK Maxx. While this is still firmly a building site, it is far less chaotic with far less construction supplies than when I visited in late January.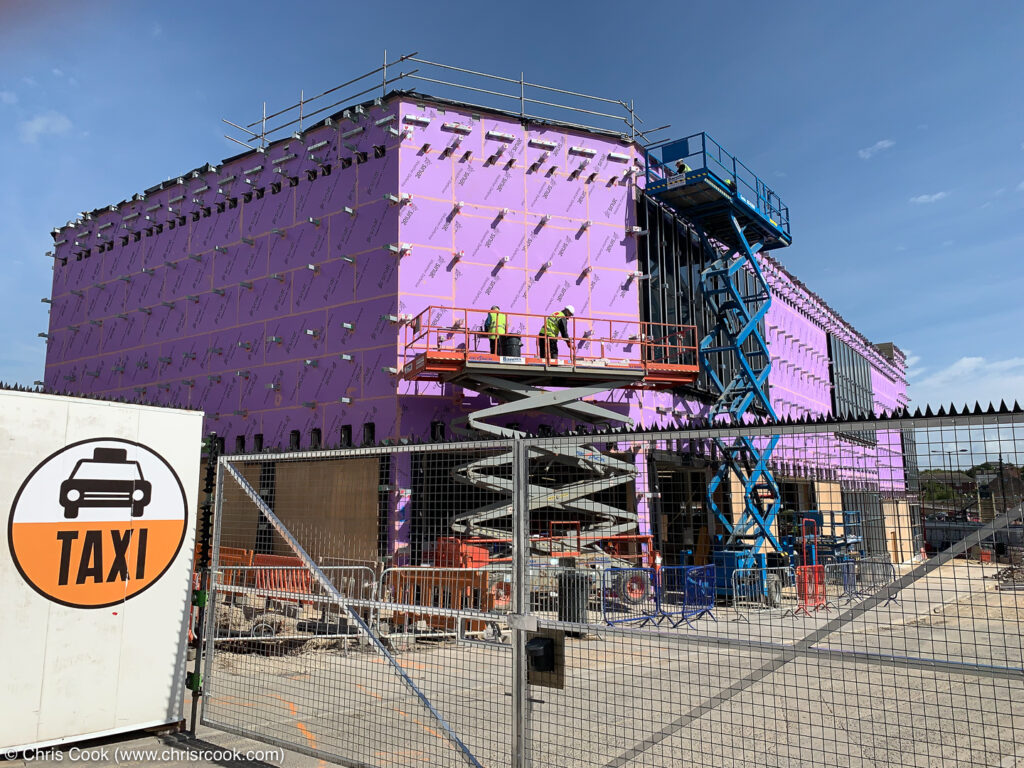 The future bowling alley and restaurants from the west end of Kendray Street. Topped out and insulated, this is now awaiting the external cladding. Passage along Kendray Street towards the Interchange is now closed.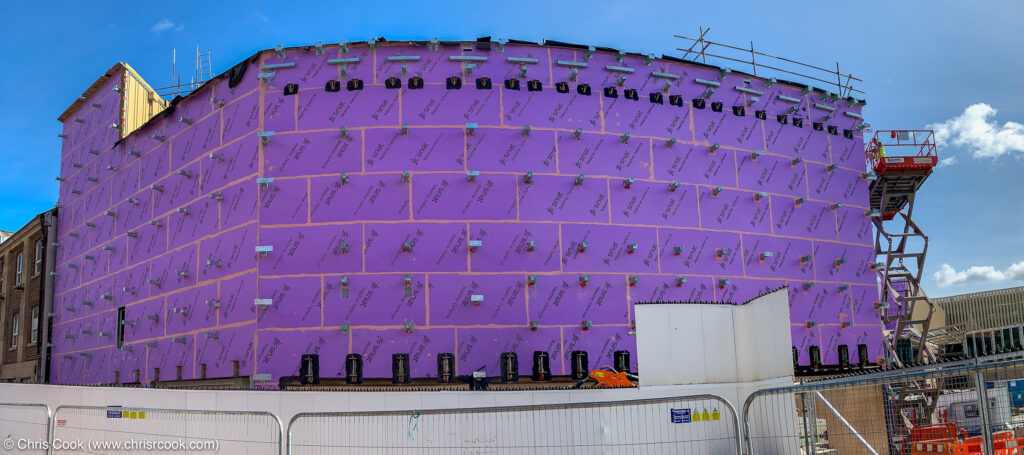 The Eldon Street side of the new bowling alley. In person the large, windowless upper wall looms over the street.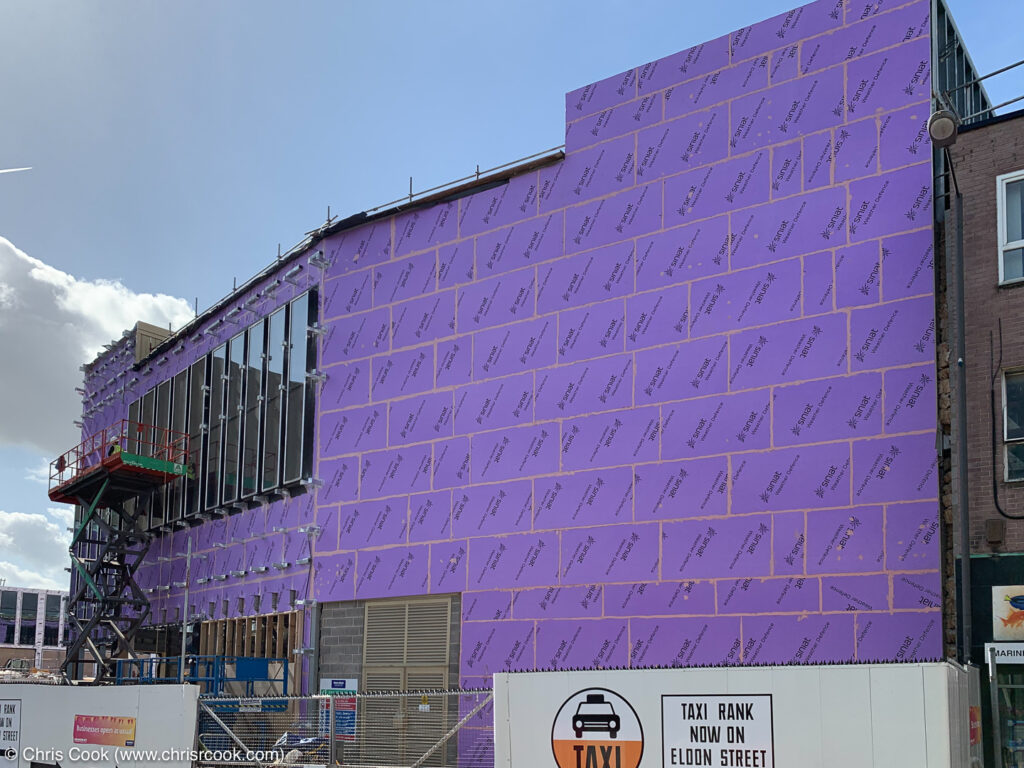 The Midland Street side of the bowling alley. The windows make this area less imposing than the Eldon Street side.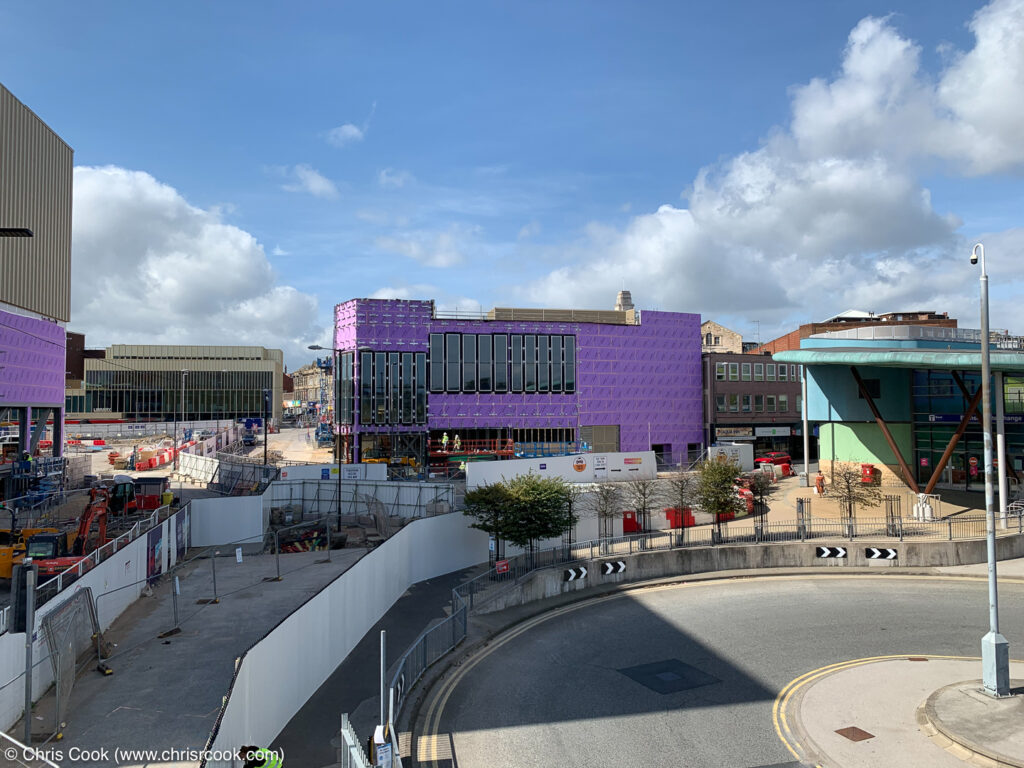 Another view of the Midland Street side of the bowling alley. The alley's main entrance will be in the left hand side of this wall.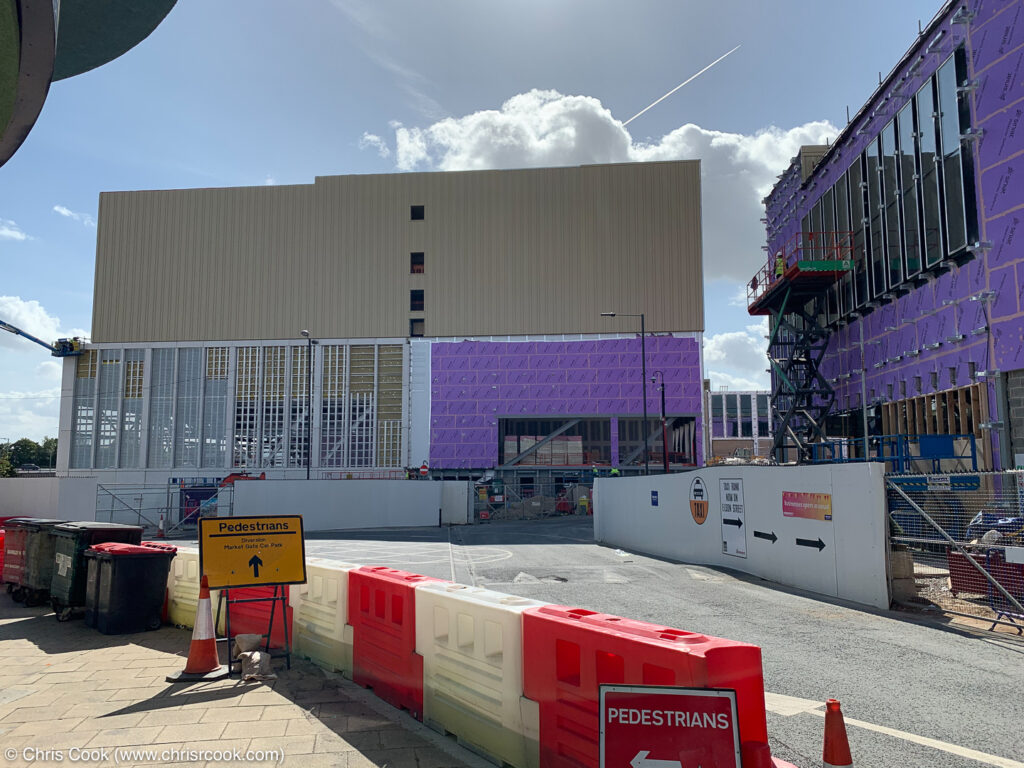 The side of the future cinema looming over Midland Street.

The Midland Street turning circle framed by the cinema (left) and the bowling alley buildings. This would be the natural access route for anyone arriving via the Interchange.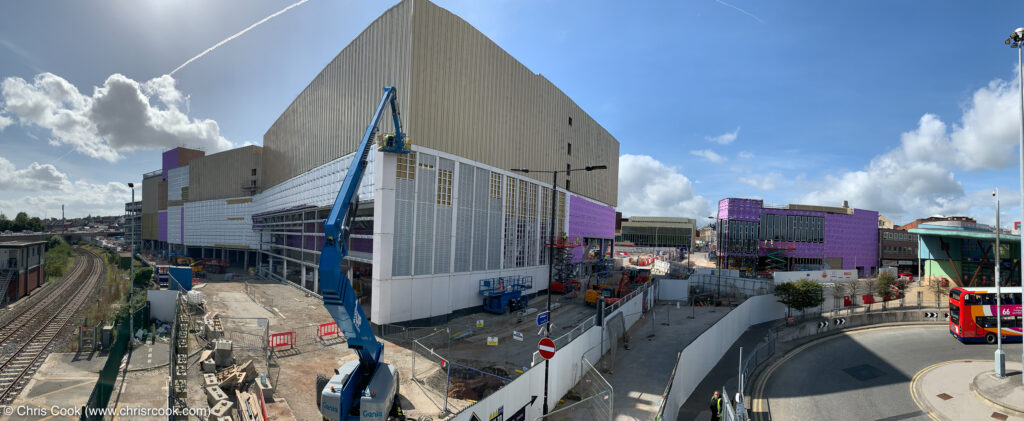 The cinema from the temporary footbridge over the railway. Between the cinema and the bowling alley you can see phase one's new library building.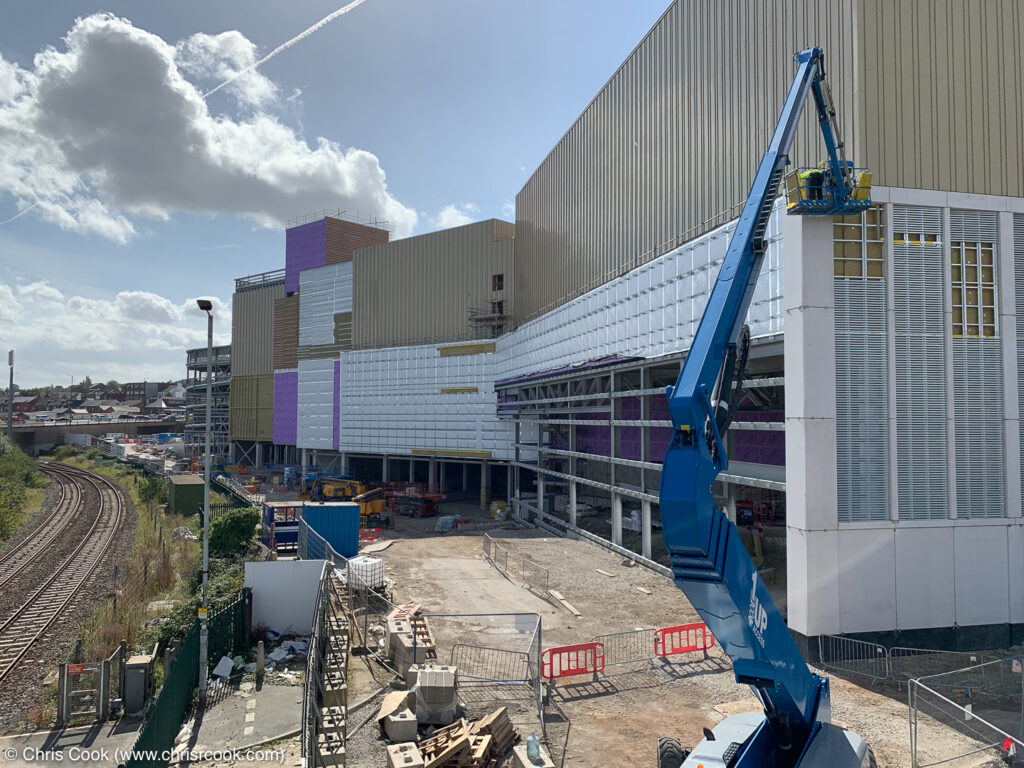 The rear of the cinema and shops as they face onto the railway. A service road will run between the building and the railway line.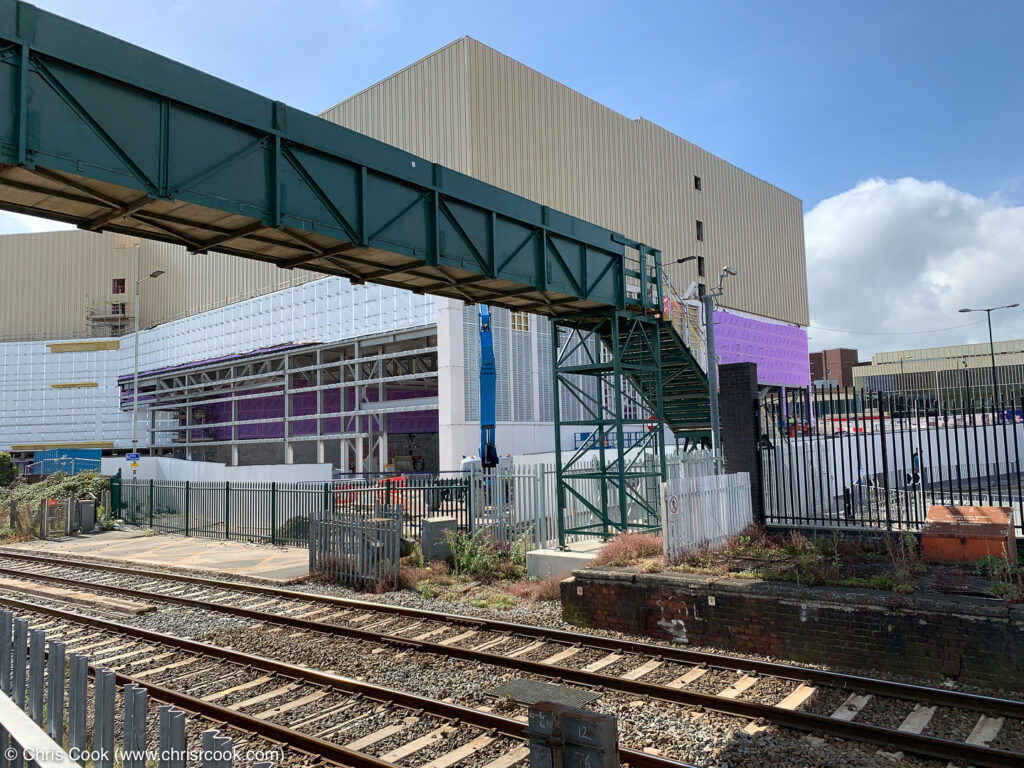 The temporary footbridge over the railway. This has now closed for preparatory work for a replacement permanent structure.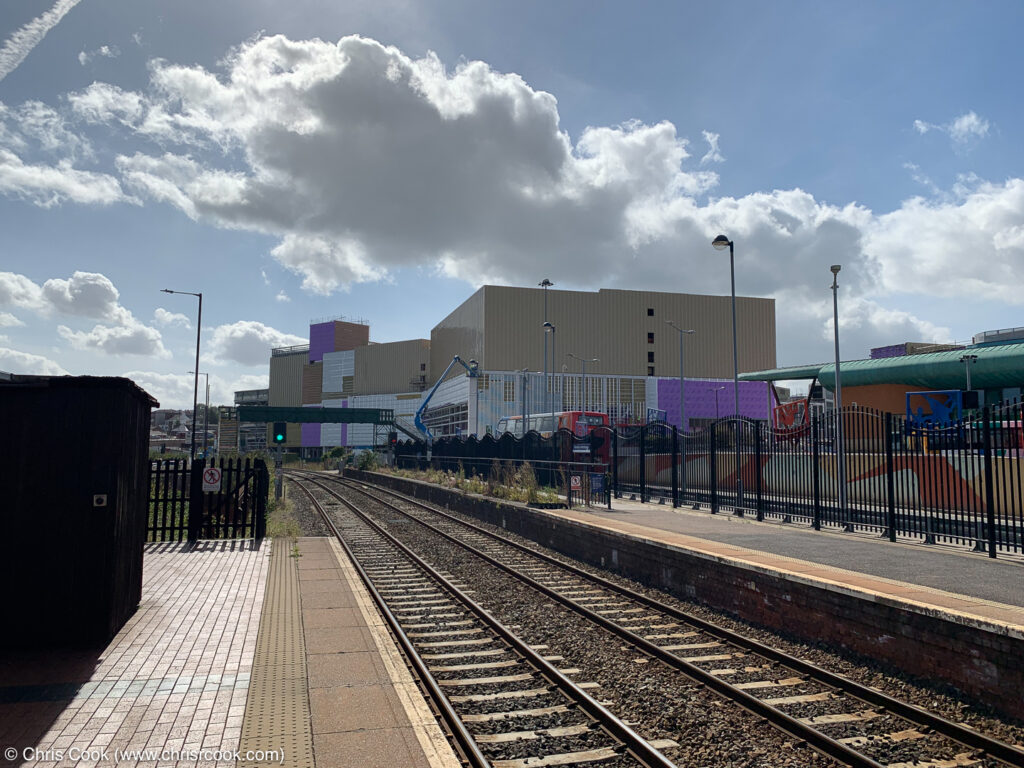 The temporary footbridge and cinema from the station. Unfortunately, the industrial nature of the upper part of the cinema is somewhat uninviting though signage and lighting may change that.